Legacy software
This software has been discontinued and is no longer maintained.
Latest Mac OS X versions are not supported.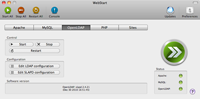 MySQL Server
WebStart includes a full-featured OpenLDAP server, the world's leading OpenSource implementation of the Lightweight Directory Access Protocol.
It doesn't matter whether you use it from command line, from PHP or for Apache authentication, it's just here at your fingertips.