Legacy software
This software has been discontinued and is no longer maintained.
Latest Mac OS X versions are not supported.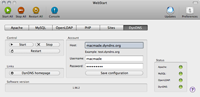 Stay Connected With DynDNS
WebStart supports the DynDNS Dynamic DNS service, to allow you to point a hostname to a dynamic or static IP address or URL, and access your home server from anywhere.