Legacy software
This software has been discontinued and is no longer maintained.
Latest Mac OS X versions are not supported.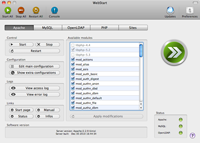 Apache 2 Server
WebStart includes a full-featured Apache 2 server, with all the necessary modules for a professionnal web development platform.
Apache configuration files can be edited directly from the WebStart control window.
The logfiles can also be consulted from the Application, in an intuitive interface.
The Apache modules can be enabled and disabled on the fly, with a simple click.
Available features includes:
PHP, CGI, WebDav, SVN, SSL and Python support
Dynamic virtual hosts, user directories, custom authentication
Server side includes, URL rewriting, security auditing, log rotation
And much more...